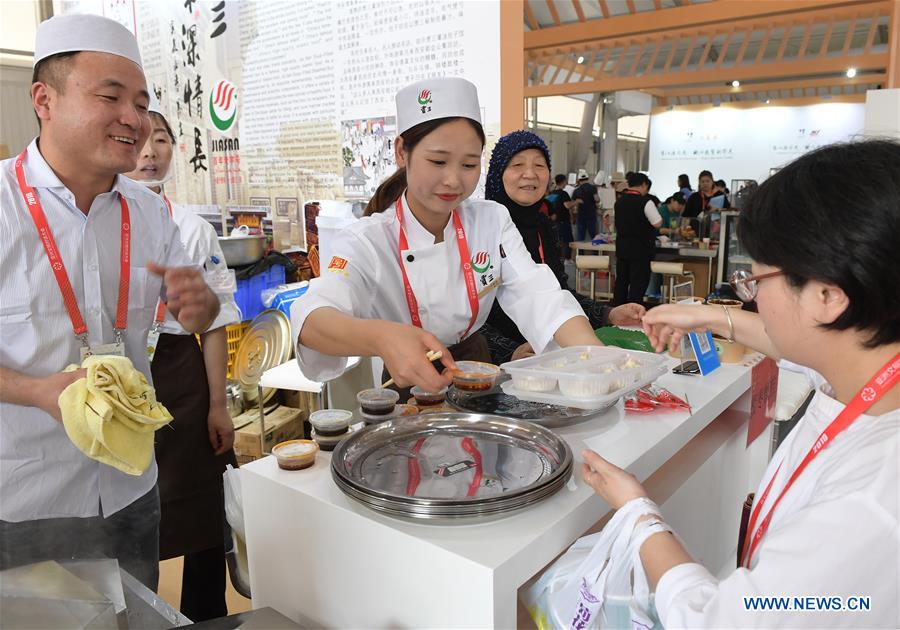 A visitor prepares to taste steamed dumplings with juicy stuffings during the Asian Cuisine Festival at the Olympic Park in Beijing, capital of China, May 16, 2019. The week-long Asian Cuisine Festival, as part of the Conference on Dialogue of Asian Civilizations (CDAC), was held in four cities of Beijing, Hangzhou, Chengdu and Guangzhou. (Xinhua/Li He)
BEIJING, May 17 (Xinhua) -- As one of the major sideline events of the Conference on Dialogue of Asian Civilizations (CDAC), a week-long food festival was held in China to showcase Asia's diverse food cultures.
The festival is simultaneously being held in Beijing, Hangzhou, Chengdu and Guangzhou, aiming to promote exchange of Asian cultures by featuring foods from different countries and regions.
During the festival, Beijing has held exhibitions on food culture and technology in the Olympic Park, while in Chengdu, capital of southwest China's Sichuan Province known for spicy dishes, the Asian Food Culture Alliance was founded to protect traditional ways of preparing various cuisines.
In Hangzhou, capital of east China's Zhejiang Province, the festival has attracted more than 400 exhibitors, displaying food not only from Asia, but also from other continents.
At the same time, Guangzhou, known for its Yue-style or Cantonese dishes, has arranged more than 40 activities to exhibit culinary culture and history, and exchanges among Asian nations.
Guangzhou will also invite diplomats from consulates in the city, representatives from foreign-related hotels and enterprises invested by Asian nations to take part in the program of Asian-themed restaurants featuring "one hotel, one country," which will serve specific food from certain Asian countries.
Slated to run from May 15 to 22, the CDAC includes a series of activities focusing on cultural diversity, exchanges and mutual learning among Asian civilizations, attracting thousands of people from 47 Asian countries and nearly 50 countries outside the region.